Follow the evolution of Freedom First, from our start in 1956 with 7 members and $40 in assets through today.
1845-1934
Birth of the Credit Union Movement
1845
- "Spolok Gazdovský" (The Association of Administrators or The Association of Farmers) was founded in Slovakia by
Samuel Jurkovič
, the first financial cooperative in Europe.
1852
- German entrepreneur
Hermann Schulze-Delitzsch
consolidated the learning from two pilot projects (Eilenburg & Delitzsch in the Kingdom of Saxony) into what are generally recognized as the first credit unions in the world.
1934
- President Franklin Delano Roosevelt signs the
Federal Credit Union Act
into law. The newly created Federal Credit Union Division is placed in the Farm Credit Administration, the agency responsible for addressing the financial problems facing rural America. That same year, Louise Herring,
Dora Maxwell
, and
Edward Filene
, among other credit union movement pioneers, met in Estes Park, CO and established the
Credit Union National Association (CUNA)
.
1956-1992
Roanoke General Electric Employees Federal Credit Union
1956 - The Roanoke General Electric Employees Federal Credit Union was founded with $40 from 7 members. It was operated by Fritz Kehn out of his desk drawer at the Salem GE plant.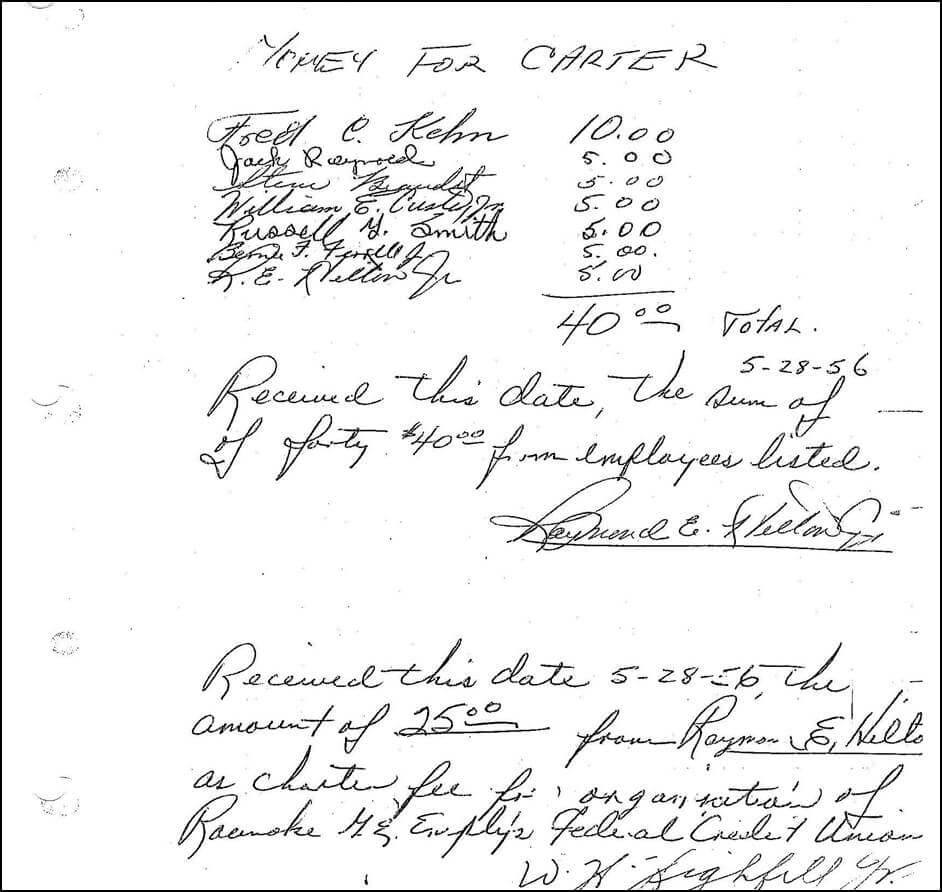 1962 - The first office opened at 1801 Roanoke Boulevard in Salem.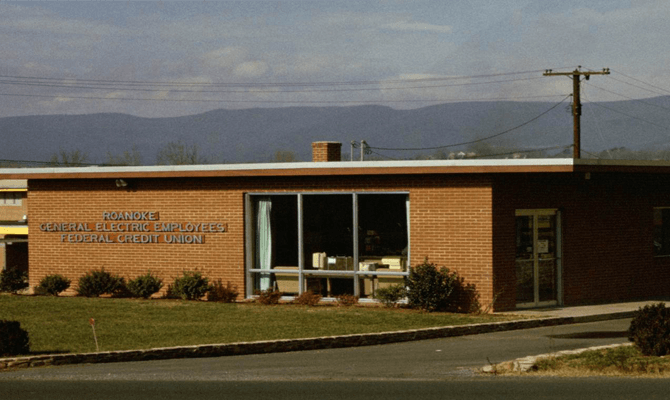 1984 - Merged with Centel Credit Union in Charlottesville.
1986 - Assets reached $25 million after merging with Virginia Tech Employees Federal Credit Union in Blacksburg and Lewis-Gale Credit Union in Salem.
1987 - Merged with Montgomery County Employees Federal Credit Union in Christiansburg.
1992 - Merged with Electro Tec Federal Credit Union in Blacksburg.
1993-1998
Roanoke GE Federal Credit Union
1993 - Assets grew to $50 million after merging with Roanoke Electric Steel Federal Credit Union in Salem. The credit union became Roanoke GE Federal Credit Union at this time.
1996 - Opened South Main branch in Blacksburg.
1999-2002
TECH Federal Credit Union
1999 - Changed credit union name to TECH Federal Credit Union.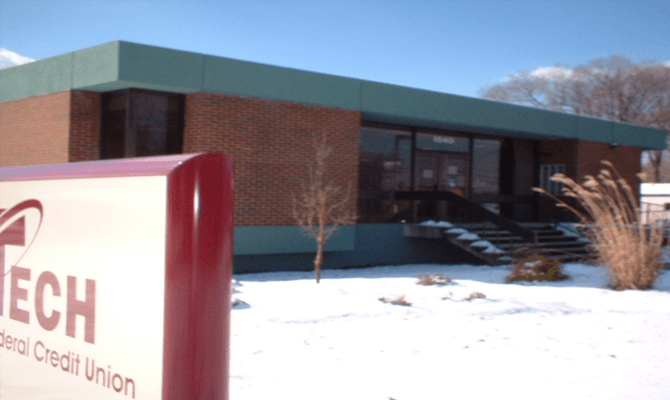 2000 - Assets grew to $75 million. Introduced PC banking and opened the Operations Center at 5240 Valleypark Drive in Roanoke County.
2001 - Service area amended to include everyone in Montgomery County and the City of Radford.
2002 - Assets grew to $100 million after converting from a Select Employee Group (SEG) charter to a community charter serving the Roanoke MSA. Opened the Christiansburg branch at 417 North Franklin Street.
2003-Present
Freedom First Federal Credit Union
2003 - Changed credit union name to Freedom First Federal Credit Union and opened the Salem branch at 1235 Electric Road and Towers branch at 2221 Colonial Avenue.
2004 - Merged with City of Salem Employees Federal Credit Union and opened the Vinton branch at 203 W Virginia Avenue.
2005 - Assets grew to $150 million after merging with Salem Community Federal Credit Union.
2008 - Established the Community Development Department and opened the Crossroads branch on Williamson Road.
2009 - Assets grew to $250 million.
2011 - Voted Best Place to Work by Virginia Business Magazine and awarded Corporate Citizen of the Year by the Roanoke Chapter of the NAACP.
2012 - Merged with Carilion Federal Credit Union, expanded the community charter to include Craig and Franklin Counties, and established the Commercial Lending Division.
2015 - Awarded $1.75 million through the Opportunity Finance Network's Wells Fargo NEXT Opportunity Award to expand our low-cost workforce development loan program.
2016
- Opened the Downtown Roanoke branch at 102 Campbell Avenue, which features a Commercial Lending Office. The New York Times also highlighted Freedom First's innovative loan program in their article, "
Credit Unions Turn Borrowers into Savers
."
2017
- Assets grew to $500 million and credit union membership surpassed 50,000 people. Established the 501(c)(3) charitable nonprofit
Freedom First Enterprises
. The MetLife Foundation and Wall Street Journal recognized Freedom First in a documentary titled "
Multipliers of Prosperity
."
2019 - Forbes® Magazine named Freedom First as one of the top five credit unions in Virginia. The Crossroads branch was relocated to 5002 Cross Road NW to provide on-site impact banking services.
2020
- Freedom First Enterprises partnered with the City of Roanoke and the Cities for Financial Empowerment Fund to establish the
Roanoke Financial Empowerment Center
, the first of its kind in Virginia.
2021
- Assets grew to $750 million. The credit union converted to a rural district charter, expanding our service area to include Central and Southwest Virginia. Introduced the
Private Banking
department and purchased a new corporate headquarters building at 207 Bullitt Avenue SE in downtown Roanoke City.
2022
- Assets surpassed $1 billion and opened the Bonsack branch at 3565 Orange Avenue NE and the Prices Fork branch at 2701 Prices Fork Road in Blacksburg.
Local Impact for Tomorrow (LIFT)
opened its health and community clinic doors, made possible with a partnership between Freedom First, Carilion Clinic, Delta Dental of Virginia, and the City of Roanoke Public Schools.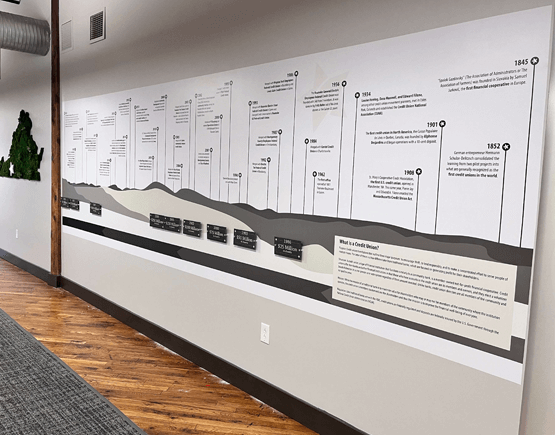 Community roots.
We're so proud of our history that we built a timeline wall at our corporate headquarters in downtown Roanoke!
What is a credit union?
Purpose: Credit unions have bylaws that outline three major purposes - to encourage thrift, to lend responsibly, and to make a concentrated effort to serve people of modest means. The latter of these is a true differentiator from traditional banks, which are focused on generating profit for their shareholders.
Structure
: A credit union, a type of financial institution that functions similarly to a community bank, is a member-owned not-for-profit financial cooperative. Credit unions differ from banks and other financial institutions in that those who have accounts at the credit union are its members and owners, and they elect a
volunteer board of directors
in a one-person-one-vote system regardless of their amount invested. Unlike banks, credit union directors are all members of the community and not paid to serve.
Mission
: While the mission of a traditional bank is to maximize value for shareholders who may or may not be members of the community where the institution operates,
the credit union's members (customers) are the shareholders
and thus the mission is to improve the financial well-being of everyone.